Cargotec Oyj says the ship-building crisis that prompted a slump in its order book over the past few years is showing early signs of a turnaround.
Mika Vehvilainen, chief executive officer of the Finnish provider of cargo-handling services, says the company has started to see "the bottoming out of ship orders overall" through the performance of its MacGregor marine equipment unit. The division reported a sequential increase in orders in the first and second quarters of this year, the first time that has happened since the end of 2014.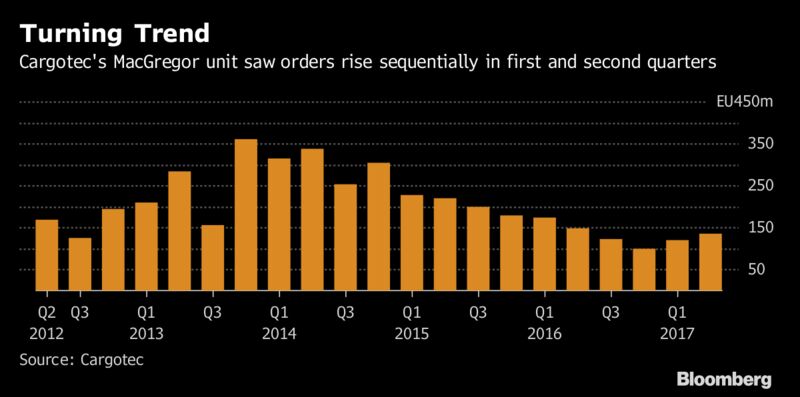 "When it comes to ship building and MacGregor, we've reached the bottom," Vehvilainen said in a phone interview on Aug. 8. "There are weaker signals there that the market is improving."
After shipyards' production peaked in 2010, orders for new vessels slumped in the wake of the global financial crisis. For Cargotec, the crisis hit its order book hard as contracts at MacGregor dwindled. After climbing to as much as 3.5 billion euros ($4.1 billion) during 2008, the group's orders sank by about 50 percent to 1.72 billion euros at the end of June.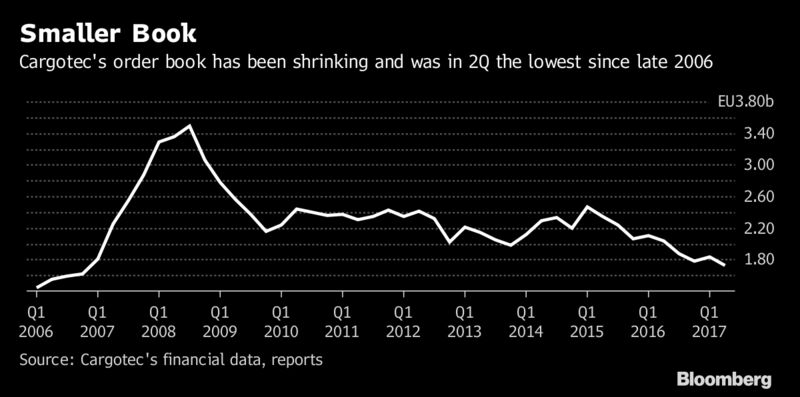 But not everything is doom and gloom. Cargotec is seeing "increasing interest, especially in general cargo ships and some other types of vessels," even if "the recovery will be fairly slow at least throughout 2018," Vehvilainen said. The Helsinki-based company's two other units -- Kalmar and Hiab -- are also faring a lot better than MacGregor.
For Hiab, which makes on-road load handling products, markets are "strong," the CEO said. The primary driver and best indicator for Hiab is construction industry deliveries, he said. The U.S. "is continuing to be strong, and we've seen an uptake in the European and Asian markets this year. That market outlook is good."
At Kalmar, whose cargo handling services bring it into contact with one in every four containers moved around the globe, Vehvilainen said the container outlook "has accelerated again this year" as world trade seems to be recovering "somewhat." That makes him "confident also on the end-market and demand in Kalmar's case," he said.
Despite the order decline, Cargotec has improved profitability by cutting expenses and investing in research and development, targeting products that are more cost-efficient. That's helped Cargotec stock gain 18 percent this year, compared with the 7.6 percent advance in the Stoxx 600 Industrial Goods and Services Index. The operating margin of 7.2 percent in the second quarter was the highest in about six years, and Vehvilainen said he is convinced profitability can improve further.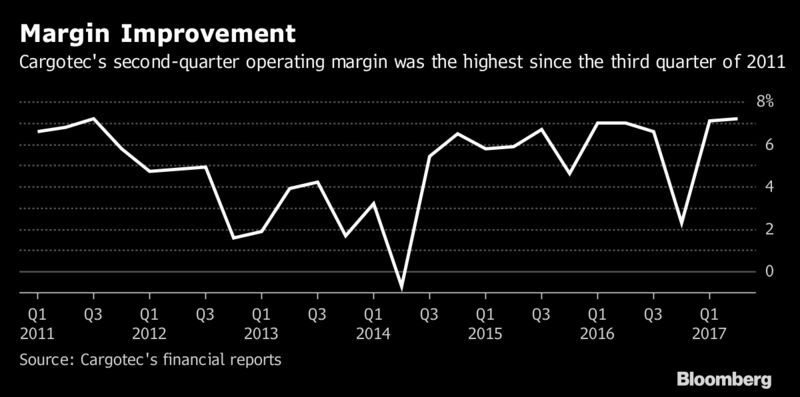 "We're very confident that Cargotec will continue improving profitability through R&D and better cost points in the products in coming quarters and years," he said.
Source: Bloomberg