The cluster of gasoline-laden tankers floating off Northwest Europe's coast is starting to dissipate, a sign that the region's oversupply of the fuel is subsiding as the approach of warmer weather revives demand.
Earlier this month, the Aframax Nan Lin Wan sailed for the U.S. Atlantic Coast after floating for weeks in the waters off the Netherlands, fixture reports and tanker-tracking data compiled by Bloomberg show. Another ship, Torm Tevere, moved into port at Amsterdam, while a third vessel, Ridgebury John B, is scheduled to sail for the U.S. this weekend.
The volume of gasoline held in ships in the region swelled to at least 334,000 tons in early April, after tanks on land — a cheaper option than storage at sea — filled to the highest on record last month. The glut occurred following a bitter winter, blunting demand for automotive fuels in parts of Europe. Now the ships, most of which are probably holding summer-grade gasoline, are moving as demand picks up and the stockpiles start to dwindle.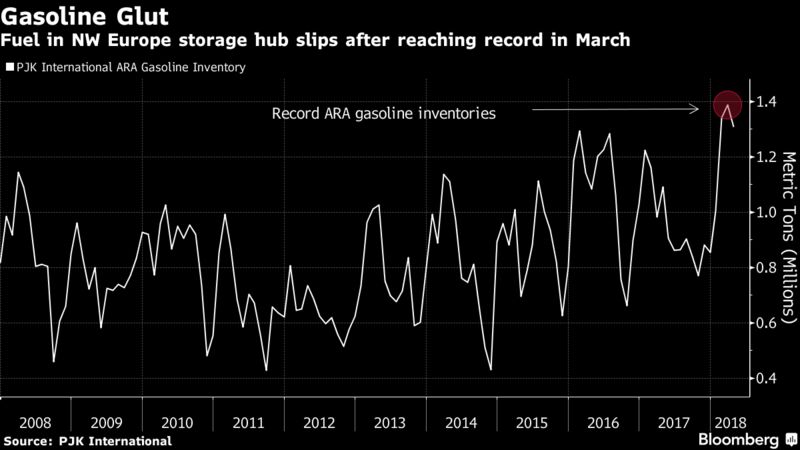 The seasonal switch in gasoline specifications "should be ending now, prompting those carrying summer grade to start finding buyers," said Richard Matthews, head of research at E.A. Gibson Shipbrokers Ltd. in London.
Gasoline stockpiles in independent storage in the Amsterdam-Rotterdam-Antwerp trading hub slipped for a second week to 1.31 million tons as of Thursday, after soaring to 1.39 million tons at the end of March, according to data from PJK International. They still remain far above the five-year seasonal average.
For now, a small group of tankers remains floating near the Dutch coast. They include the Aframaxes Phoenix Dream and Maersk Producer, which both loaded at Amsterdam in late February. Another vessel, Maersk Tangier, loaded from Mediterranean ports in France and Spain a month later. It has been anchored near Amsterdam since early April.
Gasoline cargoes from Europe to the Americas, which tend to rise as the summer months approach, are likely to be the highest this month since September, in the wake of Hurricane Harvey, ship-tracking and fixture data show. Shipments to the U.S. specifically are set to remain steady in the coming weeks, according to a Bloomberg survey of three shipbrokers and one owner.
Source: Bloomberg